In Loving Memory of

Jesse Franks, III "J.T."
Sunrise: March 12, 1979.
Sunset: November 30, 1994.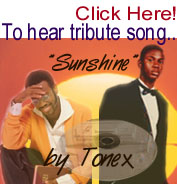 If I could have a lifetime wish, a dream that would come true. I'd pray to God with all my heart for yesterday and you. A thousand words can't bring you back; I know because I've tried. And neither can a million tears I know because I've cried. You left behind my broken heart and happy memories too. I never wanted memories, I only wanted you. We can't believe that it has almost been 7 years without you. It seems like yesterday when God called you home. We Love You and miss you tremendously, J.T., always know that there is never a day that goes by when we don't think about you.
For those of you who did not attend the homegoing, J.T.'s God brother, Tonex' Williams composed a song "Sunshine" just for him. You can listen to it by clicking "Sunshine" below.
Thank you all for allowing our family to share with you. Tonex, you know how we feel, thanks forever.
Can somebody take me to the Sunshine...
"Sunshine" performed by Tonex
© 1999-2001 ITAC